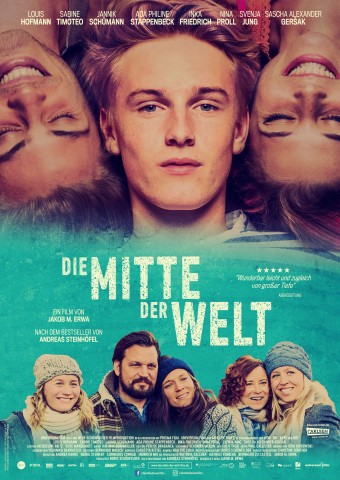 Based on the novel
DIE MITTE DER WELT
by
Andreas Steinhöfel
published by
Carlsen
Verlag
Release:
10.11.2016 (DE), 11.11.2016 (AT)
When Phil (17) returns home after the summer, his mother and his twin sister are no longer on speaking terms. Phil wants to unlock the secret, but he feels compelled to tread lightly. Surrounded by a strong-willed mother and his withdrawn sister, Phil tries to find his place in life while experiencing his sexual awakening with the quite mysterious Nicholas. But he's not finding the clarity he's looking for and has to learn that it's better to face the truth than to live a life filled with uncertainty.

With: Louis Hofmann, Jannik Schümann, Sabine Timoteo, Ada Philine Stappenbeck, Svenja Jung, Inka Friedrich, Sascha Alexander Gersak, Nina Proll and many more

Funding: Österreichisches Filminstitut, Filmfonds Wien, ORF Film/Fernsehabkommen, Film- und Medienstiftung NRW, Die Beauftragte der Bundesregierung für Kultur und Medien, Filmförderungsanstalt, Deutscher Filmförderfonds, WDR, BR, arte, Cine Art Land Steiermark, Scriptlab Drehbuchforum Wien
Credits
| | |
| --- | --- |
| CO-Producer | Neue Schönhauser Filmproduktion, Universum Film, Mojo:Pictures |
| Screenplay & Director | Jakob M. Erwa |
| DoP | Ngo The Chau |
| Editor | Carlotta Kittel |
| Sound Department | Jörg Kidrowski |
| Sounddesign | Veronika Hlawatsch |
| Music | Paul Gallister |
| Art Department | Veronika Merlin |
| set builder | Olaf Beckert |
| Costume Designer | Peri de Bragança |
| Make Up | Kathrin Bornmüller |
| Production Manager | Christine Günther |
| | Brigitte Hirsch |
| Distribution | Constantin Film |
| World Sales | m-appeal |
Prizes
FILMKUNSTMESSE LEIPZIG
FINAL CUT. MARBURGER KINDER- UND JUGENDFILMFESTIVAL
FILMKUNSTTAGE SACHSEN ANHALT
Best Young Actor: Louis Hofmann
LESBISCH SCHWULE FILMTAGE HAMBURG | INTERNATIONAL QUEER FILM FESTIVAL
BIBERACHER FILMFESTSPIELE
FLORENCE QUEER FESTIVAL
Best feature film (ex aequo)
BAYERISCHER FILMPREIS
ÖSTERREICHISCHER FILMPREIS
REELOUT QUEER FILM + VIDEO FESTIVAL
Audience Award - Best Narrative Feature
SAN FRANCISCO BERLIN & BEYOND FILM FESTIVAL
Audience Award - Best Narrative Feature Premiere
FESTIVAL VUES D'EN FACE
NEW FACES AWARD FILM
FAIRY TALES QUEER FILM FESTIVAL
OUT FILM CT - CONNECTICUT LGBT FILM FESTIVAL
Director's Award

Special Mention: Jury Award
FESTIVAL MIX MILANO DI CINEMA GAYLESBICO E QUEER CULTURE
CINE FRIENDLY
KINDER-MEDIEN-PREIS "DER WEISSE ELEFANT"
NORTH CAROLINA GLFF
OUTFLIX FILM FESTIVAL
REEL Q PITTSBURGH LGBTQ FILM FESTIVAL
Audience Award - Favorite Foreign Language Film
FESTIVAL DES IMAGES AUX MOTS
Audience Award

Special mention
Festivals
23.06.-02.07.2016

23.-30.06.2016

15.-24.07.2016

25.08.-05.09.2016

19.-23.09.2016

04.-09.10.2016

18.-23.10.2016

19.-23.10.2016

20.-23.10.2016

26.10.-09.11.2016

27.10.-13.11.2016

02.-06.11.2016

03.-06.11.2016

03.-09.11.2016

08.-13.11.2016

09.-15.11.2016

10.-19.11.2016

15.-20.11.2016

18.11.-01.12.2016

02.-16.01.2017

05.-12.01.2017

25.01.-05.02.2017

27.-30.01.2017

03.-08.02.2017

15.02.-02.03.2017

20.02.-05.03.2017

09.-19.03.2017

10.-17.03.2017

16.-26.03.2017

20.-25.03.2017

29.03.-02.04.2017

29.03.-09.04.2017

30.03.-09.04.2017

05.-15.04.2017

05.-09.04.2017

08.-09.04.2017

13.-29.04.2017

19.-30.04.2017

21.-30.04.2017

26.04.-03.05.2017

19.-27.05.2017

24.05.-01.06.2017

25.05.-04.06.2017

01.-10.06.2017

01.-04.06.2017

02.-10.06.2017

08.-18.06.2017

08.-18.06.2017

15.-25.06.2017

15.-18.06.2017

16.-18.06.2017

22.-29.06.2017

06.-16.07.2017

08.-17.07.2017

10.-13.08.2017

10.-20.08.2017

10.-27.08.2017

25.08.-07.09.2017

01.-17.09.2017

08.-14.09.2017

09.-24.09.2017

18.-24.09.2017

21.-28.09.2017

12.-21.10.2017

13.-21.10.2017

18.-22.10.2017

02.-12.11.2017

04.-11.11.2017

05.-11.02.2018